Yamhill Carlton American Viticultural Area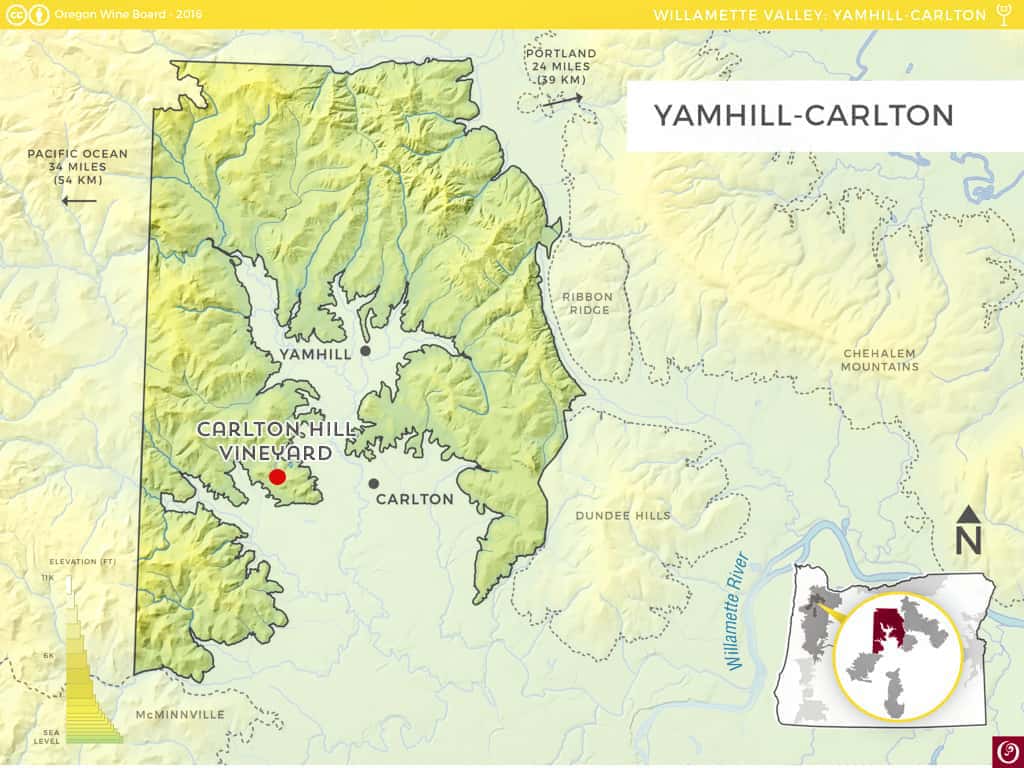 Carlton Hill Vineyard is a member of the Yamhill-Carlton American Viticulture Area, or AVA.
Designated in 2004 as its own AVA, the Yamhill-Carlton wine district today comprises about 1500 acres of vineyard—representing 60 vineyards and 30 wineries.
Located to the west of the more famous Ribbon Ridge and Dundee Hills AVAs, Yamhill-Carlton AVA possesses both unique soil and microclimate characteristics that infuse noticeable influences over wines from this area.
From the Yamhill-Carlton AVA website:
The coarse-grained, ancient marine sediments native to the area are among the oldest soils in the Willamette Valley. These soils drain quickly, making them ideal for viticulture. Thus, the vines stop growing shoots and leaves earlier here than elsewhere, leading to more complete ripening, even in cooler growing seasons. This allows Pinot Noir to develop deep ruby colors and broad, silky tannins. The mouth-filling wines exude powerful fruit aromas of raspberry, blackberry and black cherries, framed by minerality reminiscent of pipe tobacco, espresso, clove and dark chocolate and accented by scents of rose, violet, lavender and sweet wood smoke. These are alluring, complex, supple gems of Pinot Noir to sip and savor.A Yamhill-Carlton Pinot is typically lower in acidity, deeper in color, and higher in tannin than that of a Dundee Hills or a Ribbon Ridge wine. Yamhill-Carlton wines have some of the darkest color of all Willamette Valley Pinot Noirs.