Carlton Hill
2010 Carlton Hill Estate Pinot Noir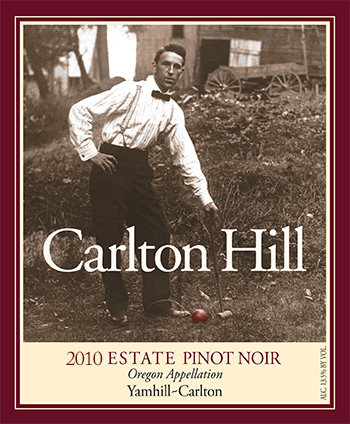 SOLD OUT
~ Double Gold Medal – Oregon Wine Awards ~
~  91 pts. – Wine Advocate ~

The Wine Advocate Review – 91 points
Proprietor David Polite emphasized the enormous efforts it required to spare his 2010 Pinot Noir Estate from avian decimation. "I had to keep running back and forth across the vineyard every morning to scare off the birds," he relates, for which purpose he employed a special pistol that discharged M-80s in their general direction, normal noisemaking having proven ineffective. It was worth it! Here is a Pinot as tart-edged, firm, and ultimately complex as its 2011 counterpart, but with none of the drying tendency noted in that wine. Bloody, roasted red meats and pit-inflected cherry are wreathed in Latakia tea smokiness on the nose, and bracing, finely tannic palate, leading to a finish whose sinister, forest floor intimations are fascinatingly juxtaposed with the tart brightness of cherry and with incisive nips of horseradish that convey intense invigoration. This is going to be fascinating to follow through at least 2018. (There is a small lot of reserve 2010, but Polite has cautiously postponed a decision on whether to release it, as it harbors a touch of brett whose evolution he wants to follow.)
Wine
Double Gold medal winner of the 2012 Oregon Wine Awards. The 2010 Carlton Hill Estate Pinot Noir expresses exotic spice notes on the nose and palate with red raspberry, cranberry and cherry flavors prevailing throughout a long, lingering finish. Burgundian in character, this vintage contains 15% whole cluster.
Vineyard
Carlton Hill Vineyard is the exclusive source of grapes for all Carlton Hill Pinot Noirs. Located in the center of the Yamhill-Carlton American Viticulture Area and due west of the Dundee Hills AVA, the vineyard sits at an elevation ranging between 420 and 480 feet and is comprised of Willakenzie and Peavine soils. Most notable about Carlton Hill Vineyard is that it enjoys a pure eastern exposure to the sun, not unlike the great Gran Cru vineyards of Burgundy, but in contrast to most Oregon vineyards which face south. We believe the eastern orientation of our vineyard allows the grapes to ripen in the most gentle manner possible, preserving the delicate-yet-complex nature of the Pinot Noir grape.
Winemaking
We harvested on October 18 – 21, 2010, and both the 777 and 115 clone blocks yielded between 1.25 and 1.5 tons to the acre. We reached sugars of 23 brix, and a must pH of 3.59. After a 5-day cold soak and a 15-day indigenous ferment, the vintage was in barrel by the end of the first week in November to be aged for 11 months in 25% new French oak barrels. 420 cases produced.
Vintage
One of the coldest growing seasons on record, 2010 brought rain throughout most of the month of September, a time when it is supposed to be dry and warm. This weather, in turn, triggered an early migration of grape-hungry robins and cedar waxwings to the Yamhill valley, and they came by the thousands. We managed to protect about ninety percent of our fruit. Others were not so fortunate. Some Yamhill valley vineyards lost their entire crop. The ferocious fight to save the grapes paid off. The 2010 Estate Pinot Noir is proving to be one of the most elegant and refined wines to be produced from this vineyard to date. Reasons why? First, the wine benefitted from grapes which struggled to achieve ripeness or, in the parlance, had the right "hang time." Second, the 2010 vintage has lower alcohol levels.
Key Facts
Raspberry, cranberry and cherry flavors interplay beautiful with spice flavors in an elegant wine that's balanced and full flavored.
Vineyard faces east, like its cousins in Burgundy.
15% whole cluster.
420 cases produced.
Wine Data
Vintage: 2010
Varietal Composition:
50% 777 Dijon Clone
50% 115 Dijon Clone
15% Whole cluster ferment
Barrel Aging: 11 months; 25% new wood
Appellation: Yamhill-Carlton AVA
Alcohol: 12.8%
pH: 3.59
Ageability: 2013 to 2018
Enjoy!
David C. Polite
Carlton Hill Wine Company