Events at Carlton Hill Vineyard
MEMORIAL WEEKEND PARTY
Sunday, May 28th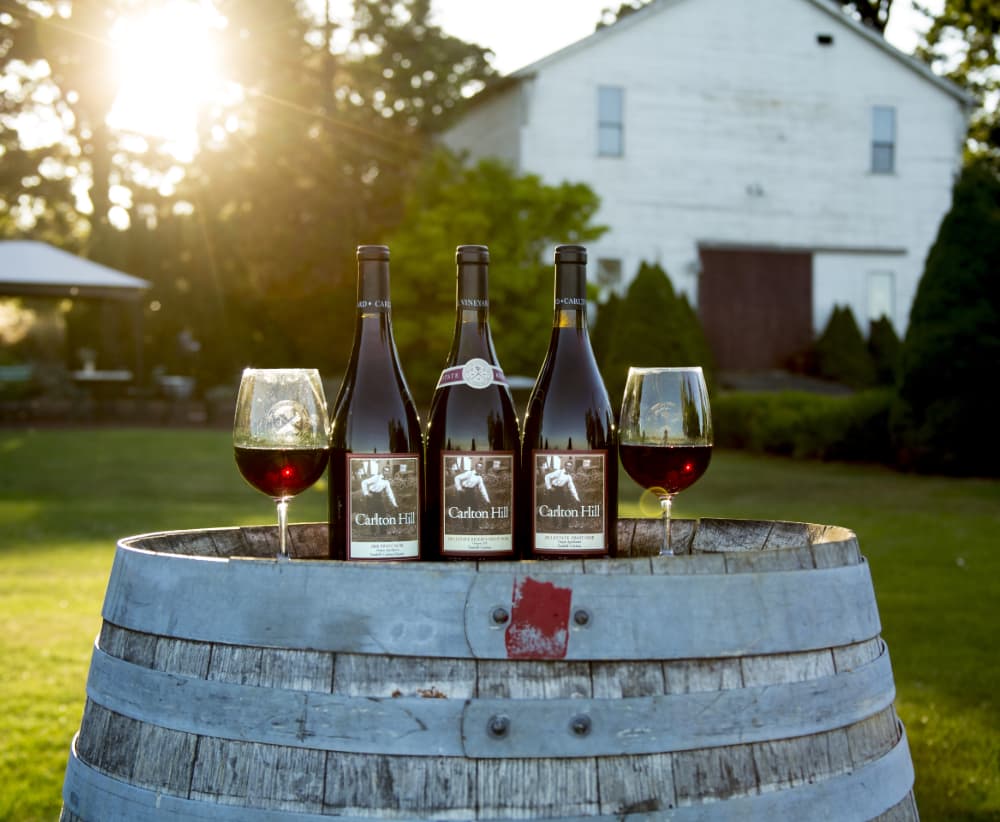 Mark your calendar. The Barn doors will open to the public on Sunday, May 28th from 1:00 until 5:00 PM.
In addition to the offerings from Carlton Hill, you will be treated to wines from Redolent and La Randonnee Wines. Altogether there will be over 12 wines to sample along with great food prepared by Chef Karo Thom.
Admission is $25.00 per person which also includes a wine glass to take home with you. Hope you can join us!
Giving Thanks- Tasting in the Barn
"Everybody talks about the weather, but nobody does anything about it.
Charles Dudley Warner
"If you don't like the weather, just wait a minute."
Will Rogers
Dear Friends,
More than once this summer, I greeted guests by saying "Welcome to New Saudi Arabia." The heat was relentless this summer and in October alone multiple high record temperatures were set. Then it all came to a screeching halt. Three days of fall weather later, we went right into winter. Oh well, maybe fall is overrated. So, let's take shelter from the storms and raise a glass together to celebrate the season's bounty. If you do plan make the trip out, please wear warm clothing and appropriate rain gear. The advance forecast looks a little daunting but I just can't seem to do anything about it.
On Saturday, November 19, between 12:00 and 4:00 pm, the barn doors will open to celebrate and share the tastes of some of Oregon's finest wines and bounty. From Carlton Hill, the 2020 Estate Pinot Noir, aka PRJ's Cuvee, shall be making its debut along with our 2018 Estate Pinot Noir. Our 2016 Blanc de Noir, Second Disgorge, will also highlight this year's celebration.
This year, as in the past, two guest wineries will also be sharing their wines at the Tasting. We are especially pleased to be joined for the first time by the Westrey Wine Company, founded by David Autrey and Amy Wesselman. Truly members of Oregon winemaking royalty, David and Amy have been making great wines now since 1993. From Westrey, you will be treated to five different wines including a Dundee Hills 2016 Pinot Gris and two wines from their Oracle vineyard, a 2013 Pinot Noir and a 2015 Chardonnay.
Not to be outdone, Kevin Green, owner and vintner for La Randonnee and Green Grove Cellars, will be pouring his 2020 Carlton Hill Pinot Noir which was recently named to the Oregon Wine Press November Cellar Select list, one of only four wines earning this distinction. Kevin is also bringing along his 2021 Sauvignon Blanc as well as the La Randonnee sparkling wine Pet-naturel.
Of course, The Barn Tasting would not be complete without an array of savory foods prepared by Chef Karo Thom. In all, your tasting fee gives you access to more than a dozen pours from a broad array of both white and red varietals, delicious food, and a souvenir wine glass.
There is a $25 tasting fee per person (two people can share 1 glass for $40; Carlton Hill Reserve Club & Cellar Club members admitted free). Hope to see you all at the Barn.
For directions, please go to www.carltonhillwines.com. MapQuest, GPS navigators and Google Maps direct people to a portion of Cummins Road that no longer exists.
Best regards,
David C. Polite
Carlton Hill Wine Co.
Taste of Place 2021
A joint tasting experience
with Carlton Hill Vineyard
and Landlines Estates
As a valued customer of Carlton Hill Wines, you are invited to this very special collaboration with Landlines Estates. Enjoy our wines and delicious food, catch up with friends, and relax in our beautiful historic barn.
Carlton Hill crafts wines with depth and finish, and minimum intervention. The fruit comes solely from the estate vineyard and the wines are crafted in a way to truly experience what the vintage and vineyard site offers.
Wine and Food
Taste 6 wines, 3 from each winery
Enjoy curated bites from Renegade Catering
$25 per person
Sunday, August 22nd
Open from 11am – 3pm, come when you like
11511 NW Cummins Rd, Carlton OR 97111
Pre-Thanksgiving Wine Tasting
Saturday, November 23
1 pm – 5 pm
Carlton Hill Winery
Taste more than a dozen wines–whites, pinks, reds–from Carlton Hill Vineyard and friends. Make your holiday purchases with special pricing available Saturday only. Remember: Carlton Hill Reserve Club and Cellar Club members taste for free. Enjoy chef-prepared bites, souvenir glassware, and our stunning view all for only $25.
More information: (503) 852-7060 or email us.
West Side Wine Trail 2019
Member Tasting Weekends
June 8,9 & July 13,14
Passports available for $50 each or $90 for two
Complimentary tastings & club member pricing on wine purchases
10% of ticket sales benefit Habitat for Humanity
Small bites at each winery during tasting weekends
For information and to purchase passports please visit a participating winery

Members who visit all wineries are invited to the West Side Trail Party on September 7th
West Side Wine Trail Party – September 7th
Add to Calendar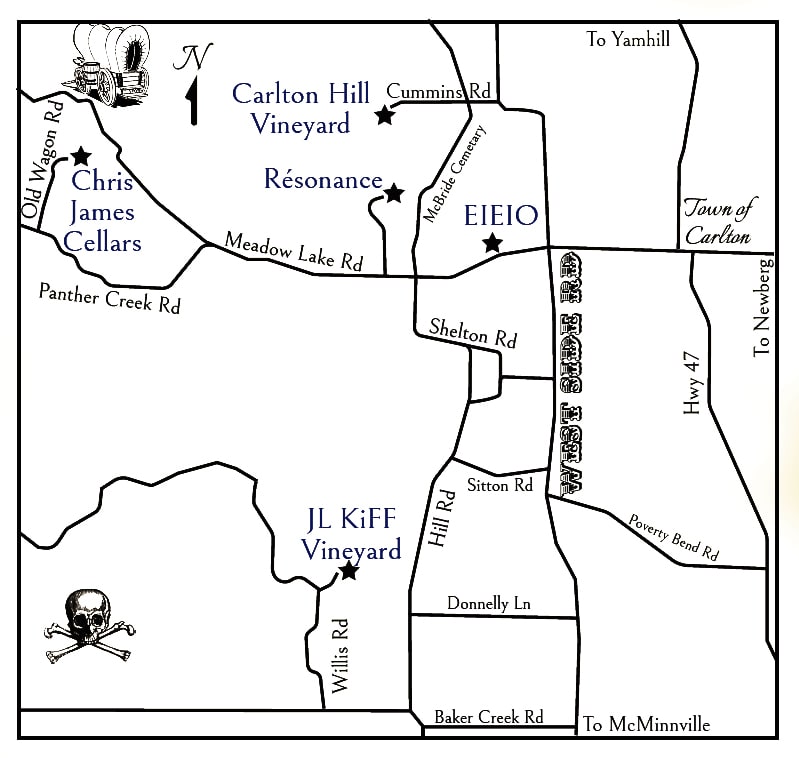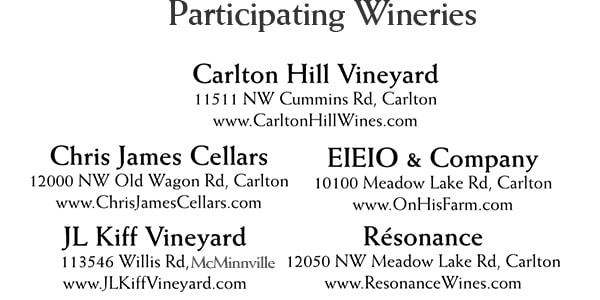 Yamhill Carlton AVA Spring Wine Tasting
Saturday, April 13
11 am – 3:30 pm
Willakenzie Estate Winery
Come see us at the Yamhill-Carlton AVA Spring Tasting on April 13.  This year, get up close and personal with over two dozen wineries all under one roof and enjoy the incredible food from our community's chefs.
Participants include: Angela Estate, Anne Amie Vineyards, Atticus Wine, Battle Creek Cellars, Beacon Hill Winery, Belle Pente Vineyard, Big Table Farm, Boedecker Cellars, Bud's Bloom Winery, Carlton Cellars, EIEIO, Et Fille Wines, Fairsing Vineyard, Ghost Hill Cellars, Gran Moraine Winery, Ken Wright Cellars, Kramer Vineyards, La Randonée Wines, Laurel Ridge Winery, Lemelson Vineyards, Lenné Estate, Marshall Davis Wine, Monks Gate Vineyard, Old Wagon Road Vineyards, Penner-Ash Wine Cellars, Pheasant Hill Vineyard, Pike Road Wines, R Stuart & Co., Roots Wine Co., Saffron Fields Vineyard, SchoneTal Cellars,  Shea Vineyards, Simoni Family Vineyards, Solena, Stag Hollow Wines, Tendril Wine Cellars, Wildaire Cellars, Willakenzie Estate.
This year, the event will be at Willakenzie Estate. This event is for 21 and over. No pets please.
Tickets are $40
Advanced Purchase Strongly Required
More information: (503) 852-7060 or email us.
Memorial Weekend Tasting in the Barn 2019
Featuring the wines of Carlton Hill, Redolent, Z'IVO, and La Randonneé
Sunday, May 26th 1 pm – 5 pm
The Barn at Carlton Hill Vineyard
11511 NW Cummins Rd Carlton, OR  97111
Memorial Day is almost here and after a long, wet winter, it's time for wine and sun to work their magic together. To embrace this experience, come join us for our annual afternoon savoring the views and the flavors from atop Carlton Hill.
Join our vineyard dog, Walker, for a memorable spring day!
In addition to the wines from Carlton Hill Vineyard, we are excited to include the wines from the up and coming winemaking team of Boyd Pearson and Jon Larson who launched their Redolent wine label in 2016.
We are also happy to be featuring once again winemaker John Zelko and his family of Z'IVO Wines along with Kevin Green, owner and winemaker for La Randonnée.
In all, you'll be able to taste over a dozen wines (including Sauvignon Blanc, Chardonnay, Pinot Noir and Rosé) while enjoying seasonal fare – you know we always put out a great spread!
Entry is $25 per guest (no checks please) and admission includes a free wine glass.
More information: (503) 852-7060 or email us.
Hope you can join us for the fun!
Reserve Club Croquet Tournament 2019
Saturday, June 29th Noon – 5 p.m.
Tournament play begins at 1 p.m. Dress – Croquet whites
.
Please join me for your Members-Only day at Carlton Hill on Saturday, June 29th. Play in the croquet tournament (A Magnum for the winner!) taste and pick up your Club wines, and try our new releases. Of course, you will be served a great lunch to be shared among your fellow Reserve Club members.
While this is a Reserve Club-only event, members should feel free to bring a guest who might make a good addition to the Club. You can let your friends know that they will receive a complimentary bottle of wine when signing up. Current members who refer them will receive a bottle of one of our hidden gems.
Please let me know at your earliest convenience if you'll be able to attend this year's celebration (and how many we should expect in your party). Also, if you'd like to participate in the croquet tournament please let us know with your RSVP, as spots on the ladder are limited. The games will begin at 1:00 p.m. sharp! I am truly look forward to seeing you. – David
PS- IF you'd like to join the Reserve Wine Club,
email me
or give me a call at 503-852-7060 and I'll get you signed up!
.