Carlton Hill
2017 Carlton Hill Estate Pinot Noir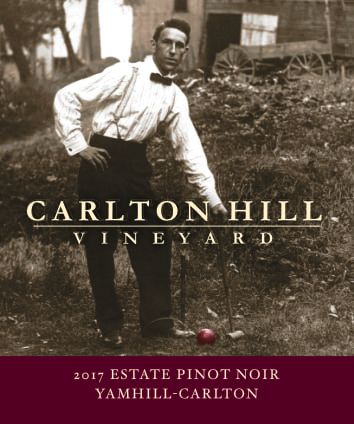 $50
TASTING NOTES
JS WINE RATINGS 93 POINTS
Very ripe strawberries and hints of cherries with some floral undertones. Medium-bodied with firm, silky tannins and a fresh finish. A bit reserved, but nicely crafted. Drink or hold. – James Suckling
VINOUS 91 POINTS
Bright garnet. Expressive red berry, floral and baking spice aromas show very good clarity and pick up a smoky nuance with air. Juicy, focused and light on its feet, offering tangy red currant and bitter cherry flavors and a sweetening vanilla flourish. Fine-grained tannins lend gentle grip to a long, nervy finish that echoes the cherry and spice notes. 20% new oak.


Many of you, when visiting Oregon in the summer, are struck by the beautiful views here in wine country as well as the lovely, dry weather. When hearing this, I usually follow up by asking to come visit us in the winter when the views reach just beyond your nose. Oregon truly has some of the worst weather in the country from mid-November through the end of April. So, sacrifices are made to live here year around but it is also the very best place to grow Pinot Noir. Once the rains stop, this region consistently provides us with long, relatively cool growing seasons which are idea for this fickle grape.
While the winters were still unpleasant, the 2014, 2015 and 2016 vintages brought us weather that was more akin to that of Napa. Did 2017 bring us back to normal? The answer is, "sort of". Bud break occurred in the second and third weeks of April and bloom was nearly complete by mid-June. This stands in contrast to 2016 where bloom was entirely complete by late May. However, while it was a relatively cool spring, once the summer switch came on in June, there were numerous heat spikes throughout the months of July and August and there was no measurable rain for two straight months.
As we approached September, the vines were already showing water stress and grape sugar levels were well ahead the physiological ripeness of the fruit. Then Mother Nature came to the rescue. By mid -September, we had received close to two inches of rain with much cooler temperatures. Thankfully, things dried out again and the fruit was able to gradually come to maturity. As a result, harvest brought us fruit revealing many of the characteristics of a cool climate vintage.
Harvested in two phases, one in late September and the other early in October, the grapes produced wines displaying exotic spices and floral notes on the nose with bright red raspberry and cherry flavors on the palate. Refined tannins and the great natural acidity of this vintage provide good structure and a long, eloquent finish at the end. Because the clusters were able to hang for longer time on the vine before picking, we were able to ferment a larger percentage of whole berries which contributed as well to the tannin and spice profile of the 2017 vintage. This wine will only get better with time and, as is the case for most of our vintages, will be quite cellar worthy. Enjoy!
2017 Carlton Hill Estate Pinot Noir. Cases made: 180 Aged in oak 11 months /40% Whole Cluster