Carlton Hill
2010 Carlton Hill Estate Reserve Pinot Noir
SOLD OUT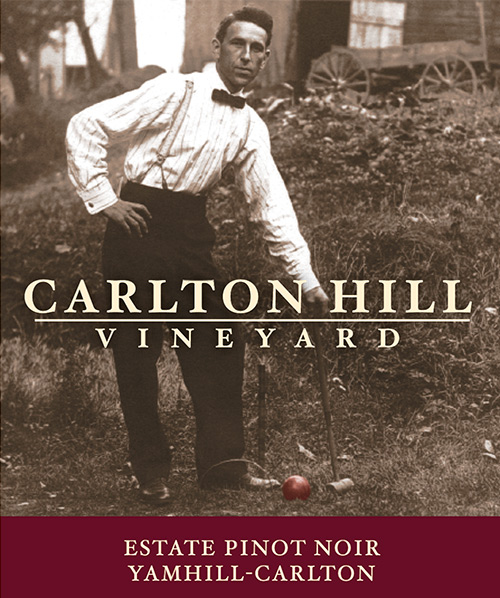 VINOUS 92 POINTS
Full red. Potent, spice- and mineral-accented cherry, rose oil, sassafras and musky underbrush scents reveal a hint of smoked meat in the background. Sweet and pliant in the mouth, offering ripe dark fruit and spicecake flavors that tighten up and become more lively on the back half. Shows the generous character of the vintage to very good effect, finishing sappy and very long, with resonating spiciness and smooth, well-knit tannins that come in slowly.
WINE ADVOCATE 91 POINTS
Proprietor David Polite emphasized the enormous efforts it required to spare his 2010 Pinot Noir Estate from avian decimation. "I had to keep running back and forth across the vineyard every morning to scare off the birds," he relates, for which purpose he employed a special pistol that discharged M-80s in their general direction, normal noisemaking having proven ineffective. It was worth it! Here is a Pinot as tart-edged, firm, and ultimately complex as its 2011 counterpart, but with none of the drying tendency noted in that wine. Bloody, roasted red meats and pit-inflected cherry are wreathed in Latakia tea smokiness on the nose, and bracing, finely tannic palate, leading to a finish whose sinister, forest floor intimations are fascinatingly juxtaposed with the tart brightness of cherry and with incisive nips of horseradish that convey intense invigoration. This is going to be fascinating to follow through at least 2018.
WINE ENTHUSIAST 91 POINTS
Spicy, with a hint of mint, this deftly integrated, late-release wine brings rhubarb and raspberry fruit into place. There's enough acidity to complement a nice, fatty piece of salmon, with a light streak of dried herbs running through the finish. It's drinking well, at or near its peak.

Wine
Gold medal winner of the Oregon Wine Awards. Our 2008 Estate Reserve Pinot Noir bursts with black fruit flavors, fragrant red raspberry and cherry notes, wood smoke and spice. Ripe, supple tannins and higher levels of acidity hold the fruit in check to produce an elegant and well-structured wine with distinctive length and finish. The 2008 Carlton Hill Estate Reserve has energy, brightness and vitality that set it apart from its peers, and a denseness and complexity that will stand the test of time and unfold with age. Enjoy with hearty red meat dishes, especially beef and lamb.
Vineyard
Carlton Hill Vineyard is the exclusive source of grapes for all Carlton Hill Pinot Noirs. Located in the center of the Yamhill-Carlton American Viticulture Area and due west of the Dundee Hills AVA, the vineyard sits at an elevation ranging between 420 and 480 feet and is comprised of Willakenzie and Peavine soils. Most notable about Carlton Hill Vineyard is that it enjoys a pure eastern exposure to the sun, not unlike the great Gran Cru vineyards of Burgundy, but in contrast to most Oregon vineyards which face south. We believe the eastern orientation of our vineyard allows the grapes to ripen in the most gentle manner possible, preserving the delicate-yet-complex nature of the Pinot Noir grape.
Winemaking
The 2008 vintage did allow us to do use more whole clusters when filling our fermentors. Due to the generous hang time provided by Mother Nature, lignification was complete throughout the vineyard and few, if any, green seeds or stems remained by the time we picked. Consequently, a third of our 2008 vintage was derived from whole cluster ferments. The 2008 Estate Reserve is the product of just four barrels we finally selected after 11 months of aging, two of which contained wine from whole cluster juice. The Reserve barrel selections were then aged for an additional eight months, bringing the total time in wood to 19 months. And, consistent with our goal of using fewer inputs, the use of new French oak was reduced to approximately 33%. 96 cases produced.
Vintage
As many of you know by now, the 2008 Oregon vintage was given 100 points by Wine Spectator and this was due to the near perfect growing season. Vintages like this don't come along very often so when we finally get the grapes to the winery, the fewer inputs on the part of the wine maker, the better. In other words: keep it simple. This is what we did. Consequently, all our wines from 2008 were derived from indigenous ferments and cold soaks were limited to just a few days. No enzymes were used and, due to the natural acidity present in the must, tartaric additions were not required.
Key Facts
This wine exhibits a fine balance of black fruit and berry flavors with supple tannins, elegant structure and smoky, spicy notes.
Vineyard faces east, like its cousins in Burgundy.
50% whole cluster.
96 cases produced.
Wine Data
Vintage: 2008
Varietal Composition:
50% 777 Dijon Clone
50% 115 Dijon Clone
50% Whole cluster ferment
Barrel Aging: 19 months; 33% new wood
Appellation: Yamhill-Carlton AVA
Alcohol: 13.54%
pH: 3.62
Ageability: 2012 to 2020