Carlton Hill
2014 Carlton Hill Estate Pinot Noir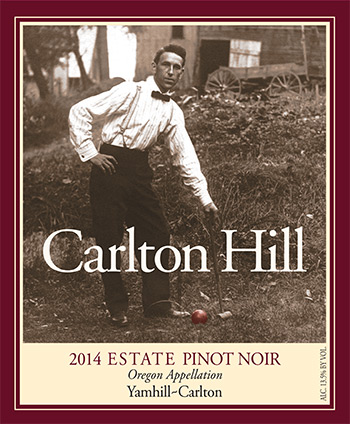 $50
350 Cases Produced
VINOUS 91 POINTS
Brilliant red. Fresh raspberry and floral aromas are complicated by hints of allspice and cola. Silky and open-knit, offering lively red berry and cherry liqueur flavors that tighten up and become spicier on the back half. Shows very good energy and velvety texture on the persistent finish, which is framed by smooth, well-knit tannins. This is a sweeter, more fruit-driven wine than its 2015 sibling, which leans more toward the savory side of Pinot.
WINE ENTHUSIAST 90 POINTS
This seems stiff but clearly focused, with strong licorice and coffee flavors over lighter cranberry and pomegranate fruit. It's not a wine bursting with charm, but it does have tannic muscle and power. Light tobacco notes thread through the grainy finish. Cellar and drink during the 2020s.
WINERY NOTES
The 2014 vintage was the beginning of what I refer to as the California years, which also  includes the 2015 and 2016 vintages that followed thereafter. From a grower's perspective, things were nearly perfect. Little to no disease pressure, a warm spring followed by a dry hot summer, abundant yields and no rains at harvest to make a mess of things. Could almost sleep at night in contrast to the 2013 vintage which brought us a typhoon at harvest with four days' notice from our weather gurus.   
To prevent early ripening, fruit was left on the vine through veraison. However, due to a very heavy fruit set, we did drop fruit in all our vineyard blocks by mid-August to a targeted yield of 2.5 tons to the acre.  The entire harvest took place on the 18th and 19th of September so everything was in the barn and fermenting by the end of the month. 
As for the wines, the same regimen was maintained as in prior years in the winery.
First, a five day cold soak , then a fermentation which lasted approximately 15 days and then off to barrel for aging for 11 months in 20% new French oak. All Carlton Hill ferments are indigenous and no enzymes are used to garner further extraction. The 2014 vintage combines fruit picked exclusively from our 777 and 115 Dijon blocks and, for the Estate Pinot Noir, 30% of the wine derives from fermenting with whole grape clusters.
It took some time for the 2014 to develop in bottle. Patience was definitely a virtue for this vintage but the resulting wine is now worth the wait.  Raspberry and floral aromas on the nose combine with hints of allspice and cola. This is a bright, energetic wine with expressive red berry flavors and a lingering spicy finish. Enjoy!