Our Winemaker, David Polite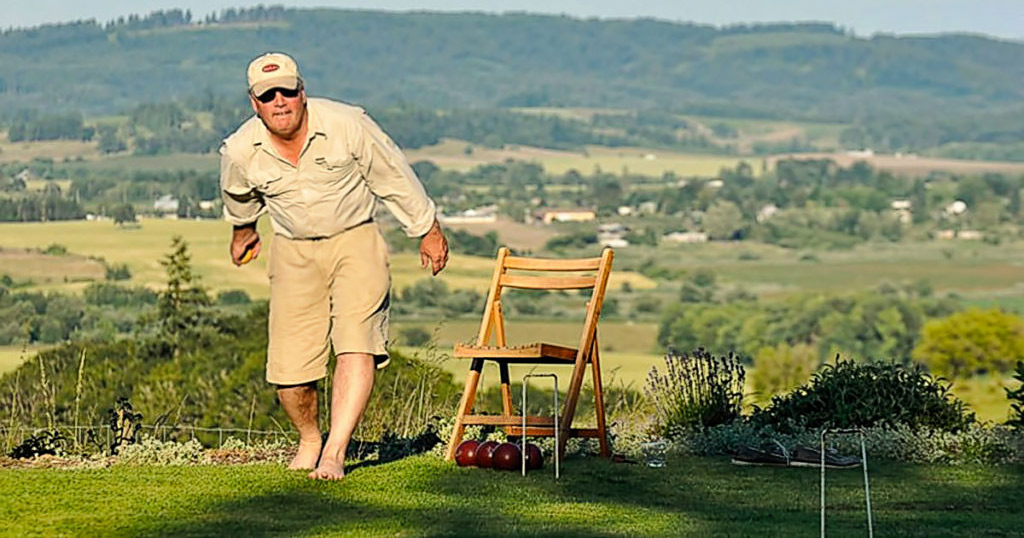 Ah, how do you describe David Polite, the man behind Carlton Hill wines?
He prefers "genius," said loudly, with gusto and a French accent.
He's not exactly a shrinking violet.
You'll see David everywhere around Carlton, McMinnville, Portland, Salem and all points in between smoking his pipe, donning a baseball cap of some kind, and wearing his signature moccasins and white socks.
No matter where he goes in his uniform, he's probably on some form of official Carlton Hill business because David's a hands-on farmer, wine maker and wine salesman.
Following a career as an attorney for the Securities & Exchange Commission in New York City, David moved west to follow his youthful dream of making great wines. In 1991, David purchased the Cummins family farm (formerly Valley View Farm, which grew prunes), and with the support and encouragement of his brother Dan, began to make his dream come true.
David's been living the dream for over two decades. Not content to retreat atop his picturesque hill, he's continued to practice law, serving many a small business owner seeking assistance with everything from incorporations to lease agreements to partnerships.
Active in the community, David was part of an effort in the early 1990s to restore Carlton Lake (it failed). From 2002-2006, he served on the watershed-protection Yamhill Basin Council. He launched the first Carlton Together Cares fundraiser to benefit local children's charities. He also served on the Yamhill County Planning Commission from 2008-2012.
But what he really loves to do is make and consume great wine. When he's not mowing, weeding, hedging, blending, wine tasting, caning, trapping gophers, chasing away deer, manicuring his croquet lawn or otherwise juggling all of this respective balls in the air, David loves fly fishing, yoga, and golf.